Sau khi tiết lộ một vài hình ảnh cho lần trở lại lần này, cuối cùng IU cũng đã tiết lộ teaser MV đầu tiên cho album sắp tới của cô.
Ca khúc " Between The Lips" nói về sư rung động của tuổi trưởng thành. MV được làm theo phong cách jazz-era, một sự kết hợp hoàn hảo với bài hát. Chúng ta còn phải chờ đến mùng 7 tháng 10 tới, nhưng chắc chắn sẽ có thêm nhiều hình ảnh hay clip thú vị hơn nữa được tiết lộ cho tới lúc đó. Vì vậy hãy dõi theo IU hàng ngày.
Cùng với việc phát hành teaser MV "Between The Lips", IU cũng tiết lộ tracklist album lần này của cô:
Album "Modern Time" sẽ gồm 12 ca khúc, trong đó có một số ca khúc do chính IU viết lời.
1.Romance of the 2nd
2.Everyone Has a Secret (feat. Ga In of Brown Eyed Girls)
3.Between the Lips (50 cm)
4.Pink Shoes
5.Modern Times
6.Bad Day
7.Obliviate
8.Child, Walk With Me (feat. Choi Baek Ho)
9.Havana
9.Depression Clock (feat. Jonghyun of SHINee)
10.Daydream (feat. Yang Hee Eun)
11.Wait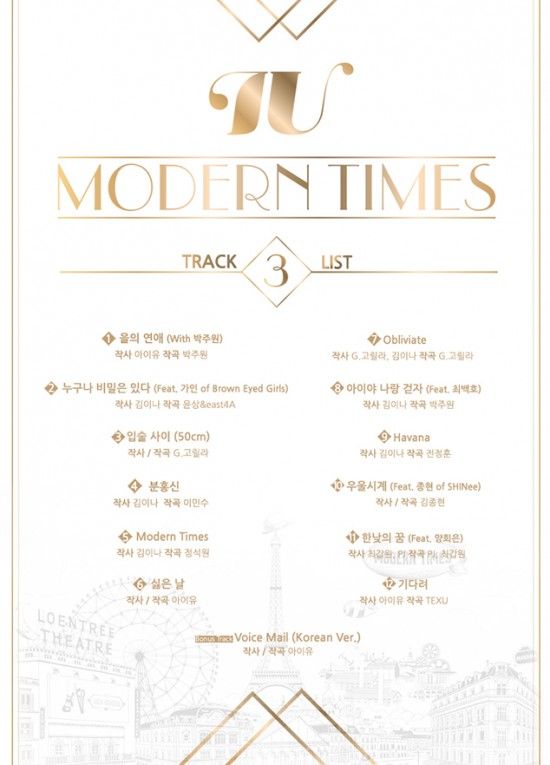 Soucre: http://www.allkpop.com/ar … r#axzz2eeRLwnG3
V-trans: apple_blue@kites.vn